This video explains why it's not a good idea to coat a metal roof with silicone spray.
This video demonstrates how we went about to save a metal roof.
Metal Roofs That Leak: Repair Options Video Transcription
The Growth of the Metal Roof Industry
Based on the research conducted by Metal Building Manufacturers Association (MBMA), pre-engineered metal buildings constitute over half of all the latest, low-rise one and two-story, non- residential structures in the U. S. Based on this huge quantity of constructions with metal roofs, there will be a need for repairs in the near future.
Causes of Metal Roof Leaks
The expansion and contraction, of metal roof structures, is caused by temperature changes. The stress of moving to the screws and neoprene washers, against metal panels, leads to leaks when the torque tolerance weakens. Another cause of leaks can be found at the end and side laps of metal panels, where the initial butyl tape or caulk seals, shrinks and creates gaps. A more obvious cause of leaks comes from the accumulation of standing water which leads to rust and eventually corrosion.
To learn more about coating product properties as well as see the additional usage applications, go to EonCoat learn more about the product properties as well as see  the additional usage applications. Our website also includes updated industry news and blog posts about protective coatings.
Repair Solutions
Silicone Spray 
There are a couple of methods that we have seen used to recover or repair a metal roof. One popular method is to spray the entire roof with a silicone coating, even though there are only a few areas that leak. Despite the surface preparation, the application of a primer, the fantastic appearance, and the cost-effective claims, this type of coating only lasts 3-5 years. During this time, pinpricks and expansion and contraction cracks develop causing water to collect between the coating and the metal. This water accumulation is not detected until the compromised area of the roof has rusted through.
Rubber Membrane
We have developed a method, of metal roof recovery, by using a technique that we perfected, from many years of installing flat roofs. It is relatively inexpensive and involves the combination of rubber membranes and adhesives. Repairing rusty metal with liquid or elastomer products is a challenge because these materials do not stick to metal permanently. We have overcome this challenge by developing a method that attaches a rubber membrane to the metal with little surface preparation. The rubber not only adheres to the metal, but it also expands and contracts, where all other coatings have less elasticity and tend to crack, after only a few years. This method of repair is also cost effective because our repair technique extends the life of the roof significantly. It doesn't matter how many leaks a roof has or how rusty it is, as long as it can be walked on, we can fix leaks with a rubber membrane, at a fraction of the cost for a replacement.
Beware of Temporary Fixes!
Every metal roof has its own challenges, but we've always had success repairing roofs that have had the fewest repair attempts. When those repair attempts include the use of silicone caulking or sealants, as a fix, the removal of such sealants becomes labor intensive. These materials are very difficult to remove from the metal to achieve the best bond for our materials.
Our Repairs Work
We use a petroleum-based sealer and adhesive that adheres to metal even when it is rusted.
Repairs with our method are less expensive than the costs of silicone or epoxy coatings.
The rubber has embedded ceramic granules for protection against harmful UV rays.
The rubber expands and contracts with the metal.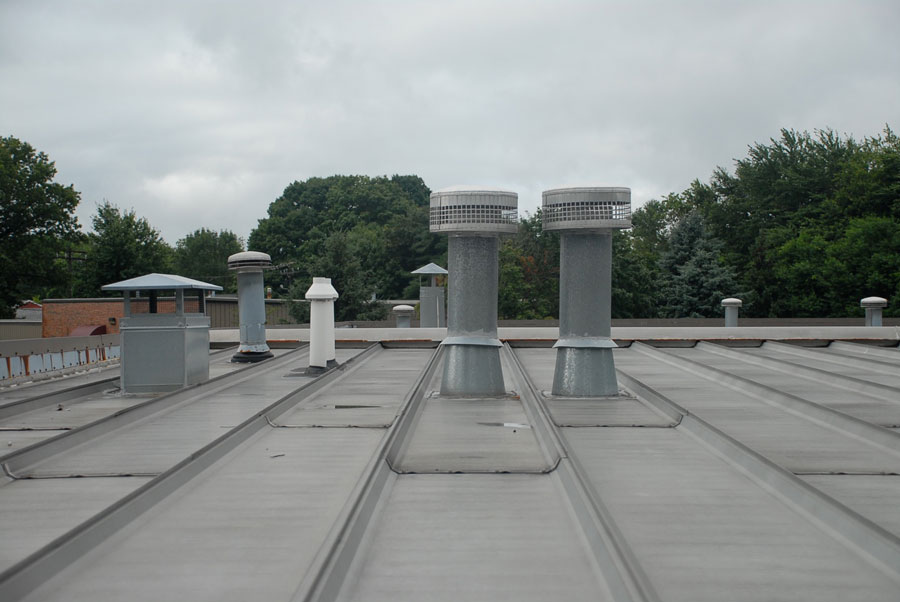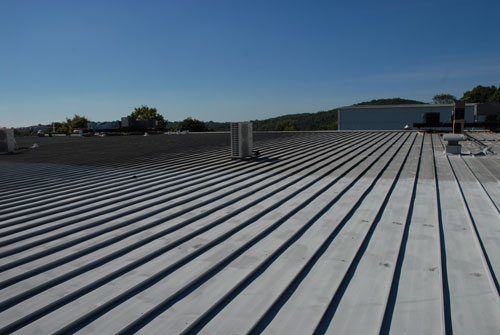 The image below shows that water cannot flow past objects freely, so the ponded water will cause the metal roof to develop rust.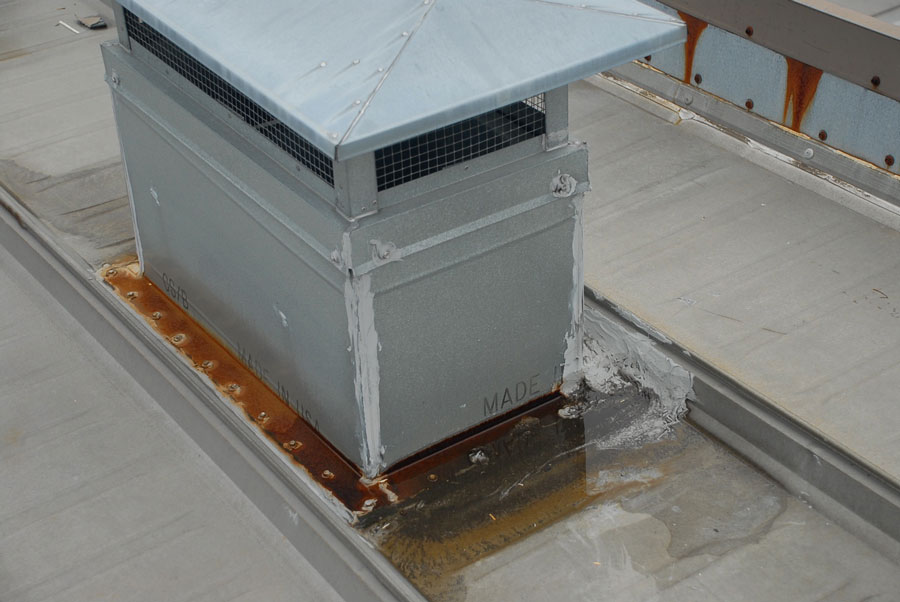 The image below shows rust where standing water remained because it was not able to flow past the seam in the roof.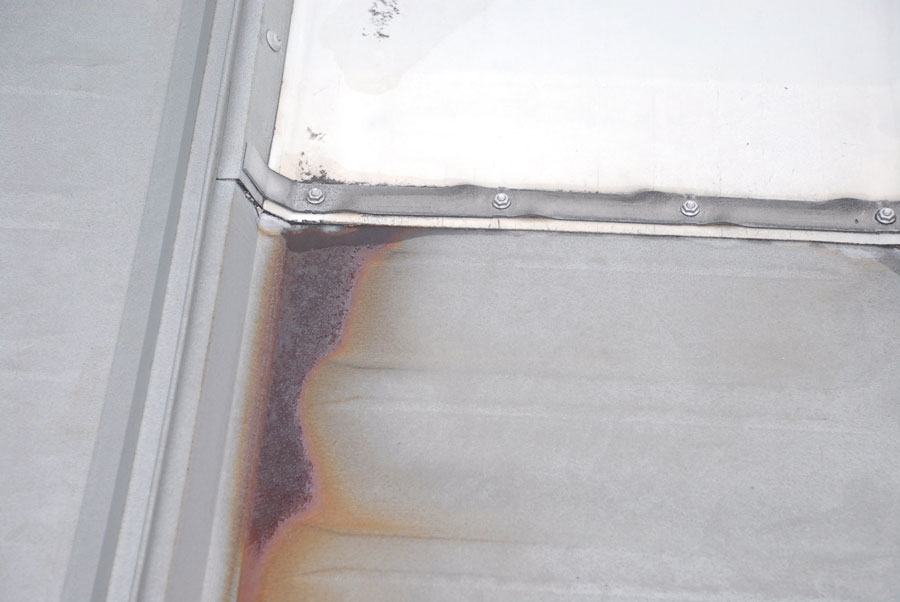 Caulking to Repair a Metal Roof
Notice that in the image below, caulking is used to seal flashing, which is not a permanent repair.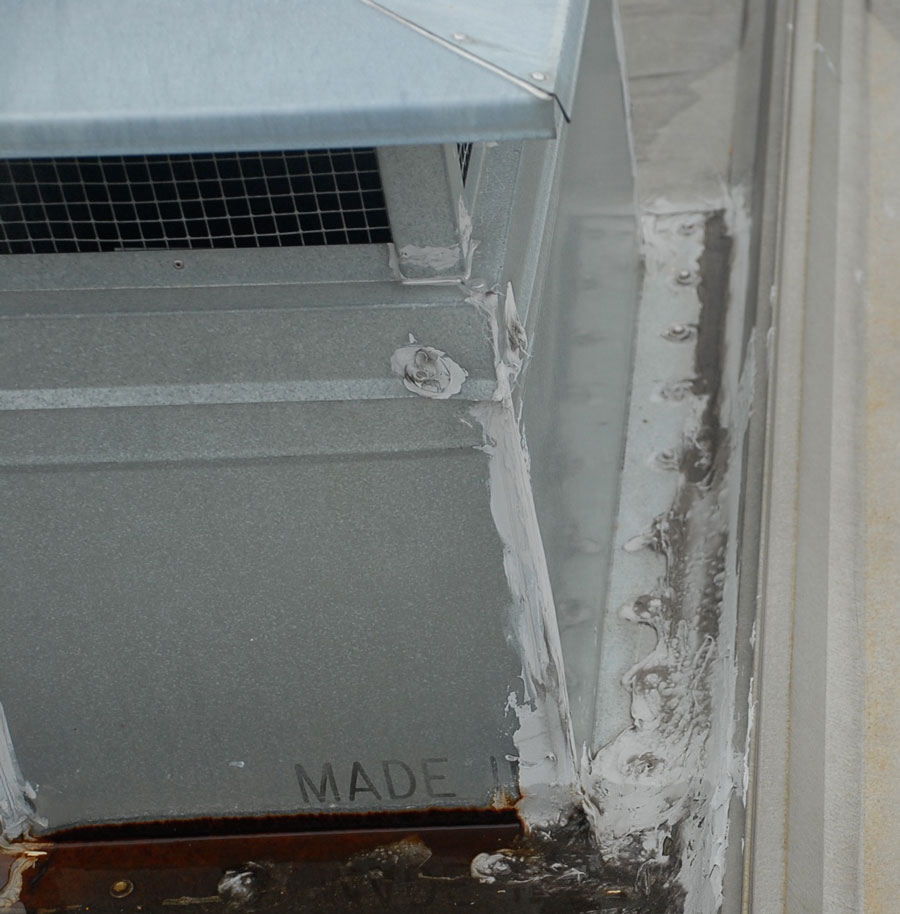 Tar is Used to Repair Leaks around a Skylight on a Metal Roof
A common material used to repair leaks, around roof top units, on a metal roof, is tar.  This method is very temporary because the tar will dry out and crack very rapidly.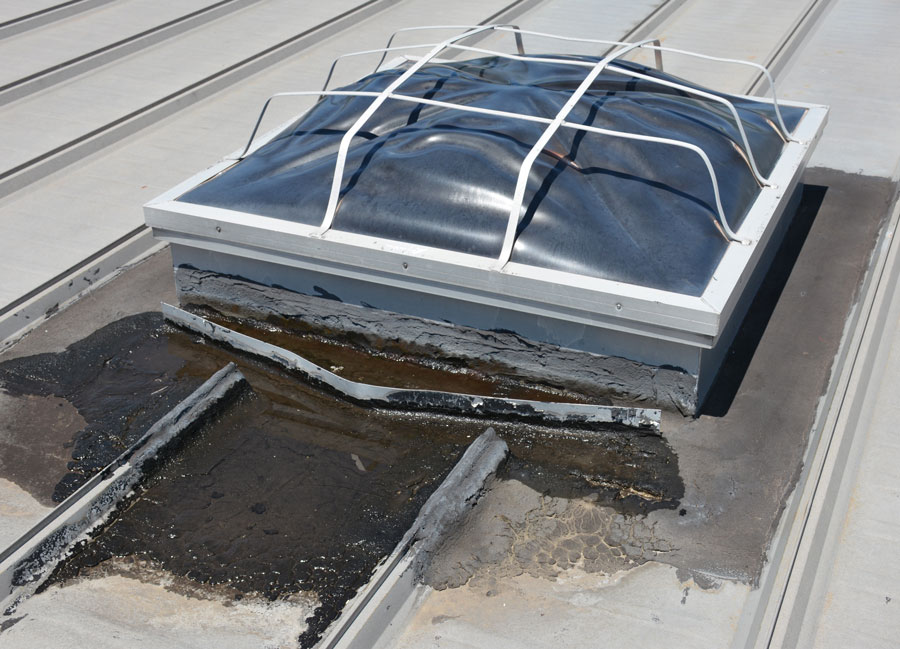 In the image below, we removed the old tar and cleaned the flashing around the skylight. It is important that old caulking and sealants be removed before our rubber membrane can be applied.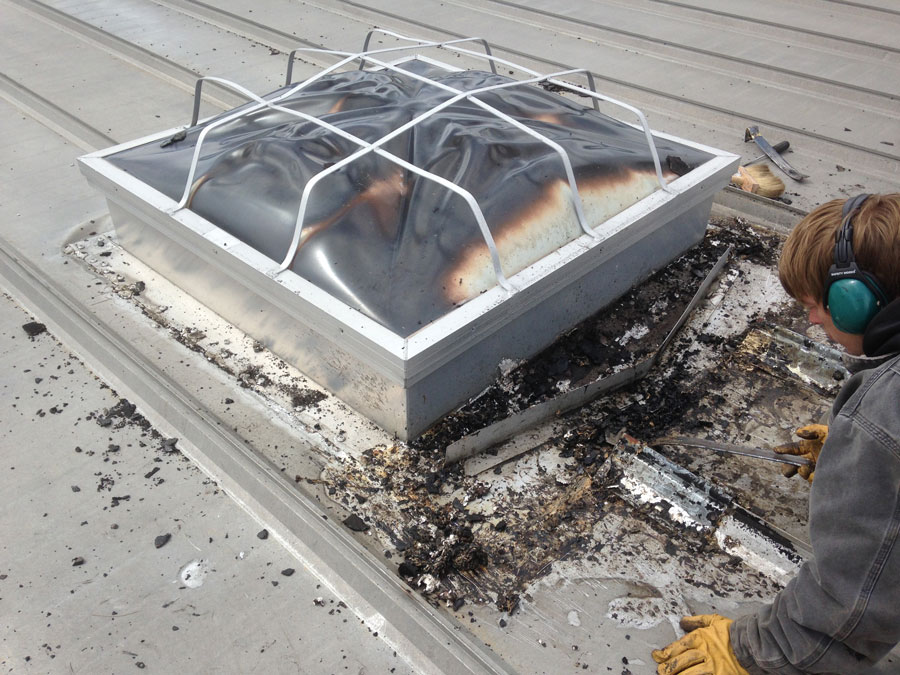 After everything had been cleaned, we installed our rubber membrane with a special bonding agent. This type of repair will outlast any other sealant, caulking or tar. It covered all the seams and any area that had rusted through. The surface is now smooth and water can flow freely.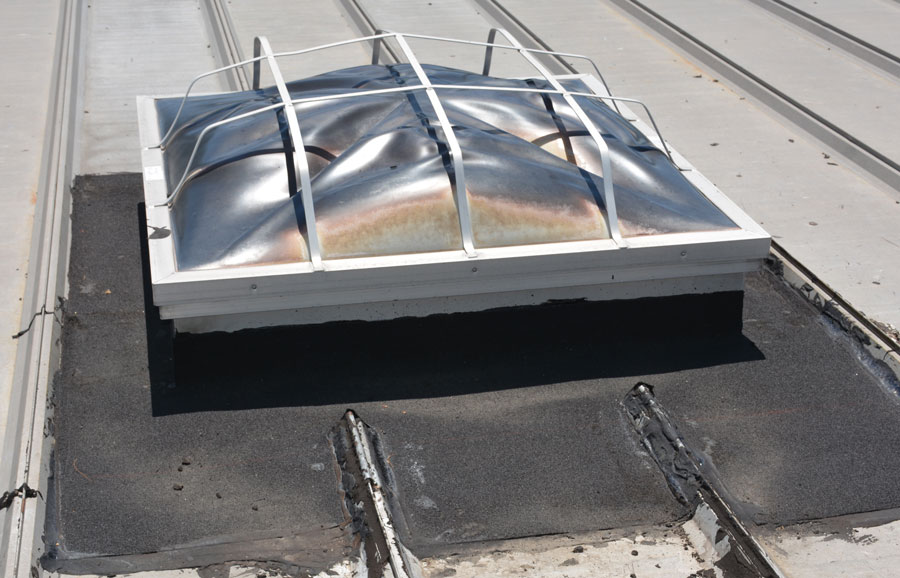 Pooling Water on a Metal Roof
Below is another example of the damage caused by ponded water. The tar around the vent pipe has dried and cracked and began to leak. We repaired it by installing a rubber membrane around it.
Vent on Metal Roof.
The flashing around this vent stack was tarred. The tar eventually dried and cracked. After we removed the old tar and cleaned the metal surface, we installed our rubber flashing around the vent stack. This will last for many years to come.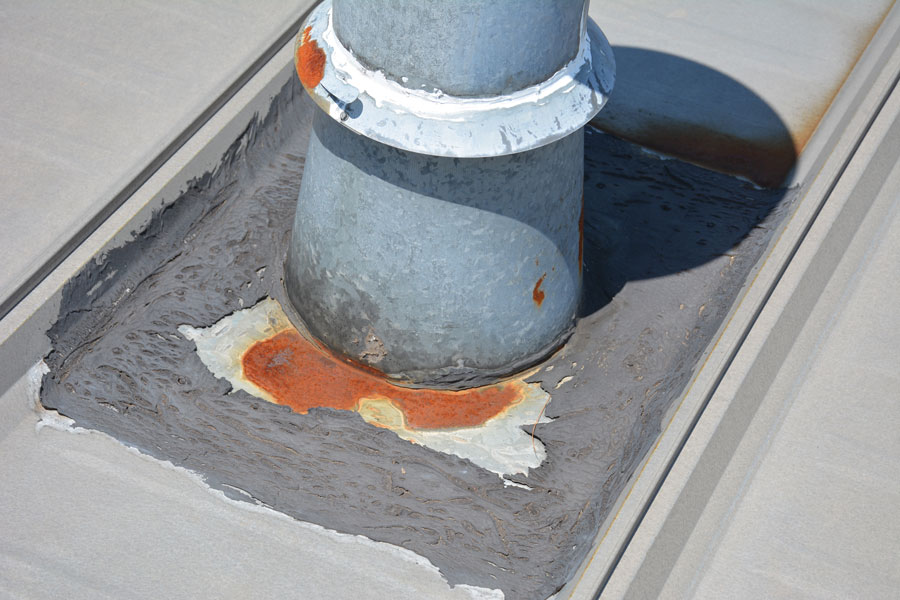 Rooftop Units on a Metal Roof
Whenever there are rooftop units like vents, skylights, or fans, the chances are that water will accumulate around the flashing, causing the metal to rust and increase the potential for leaks.
Temporary Repairs
Below is another example of a temporary repair using tar to seal open space around flashing. The tar dried and cracked and needed to be permanently repaired.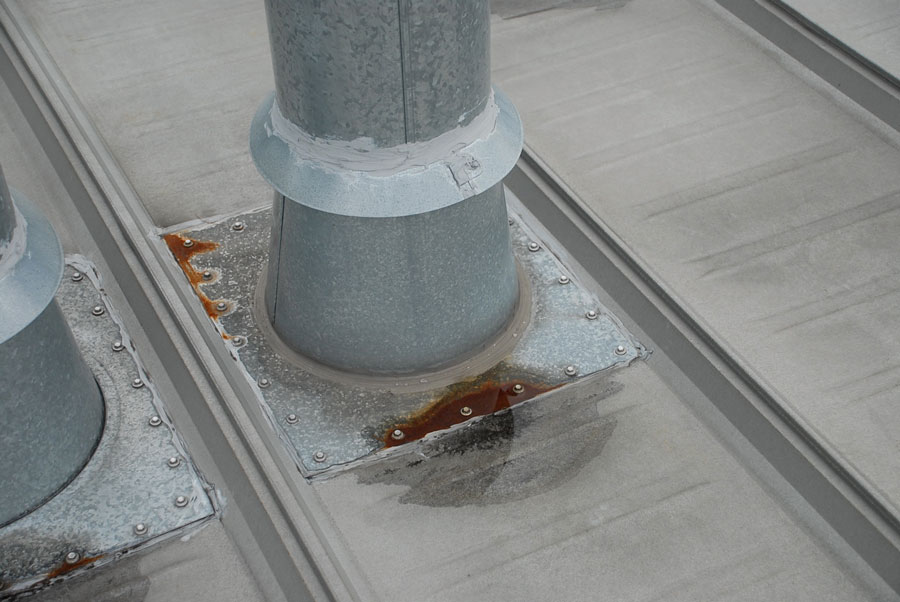 Repairs to Vent Pipe Flashing 
This is another example of a temporary repair using tar to seal open space around flashing. The tar finally dried and cracked and a permanent repair is needed.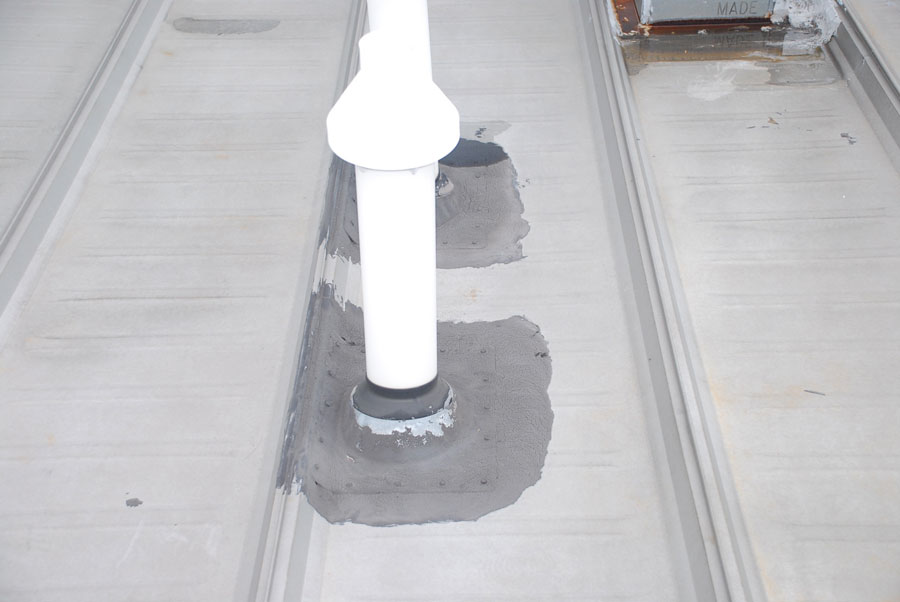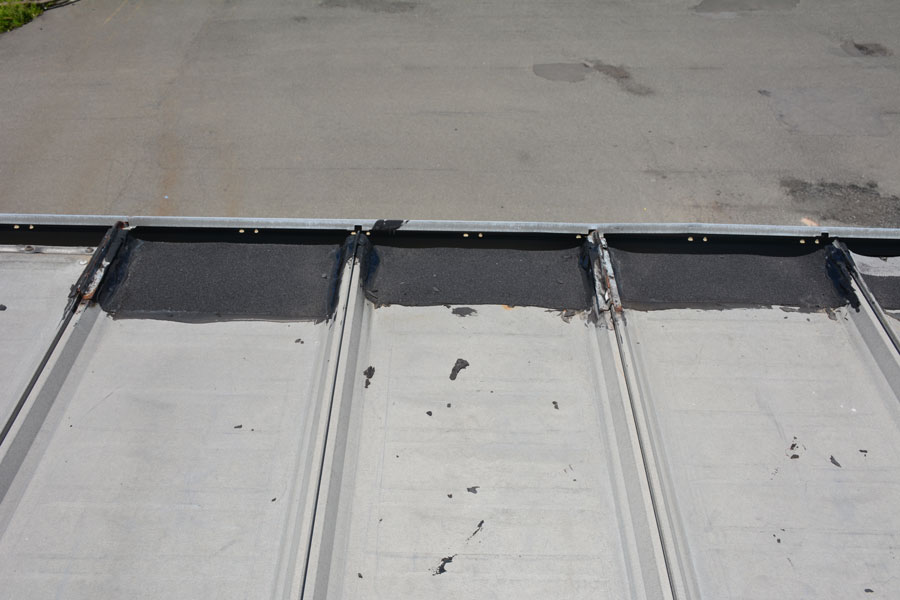 Edging of a Metal Roof
The edging of a metal roof is prone to leaks. The gutters and gutter hangers are fastened to the edge of the roof with screws. Those screws and brackets sometimes loosen up and cause the roof to leak. We use the same rubber membrane to repair the edging.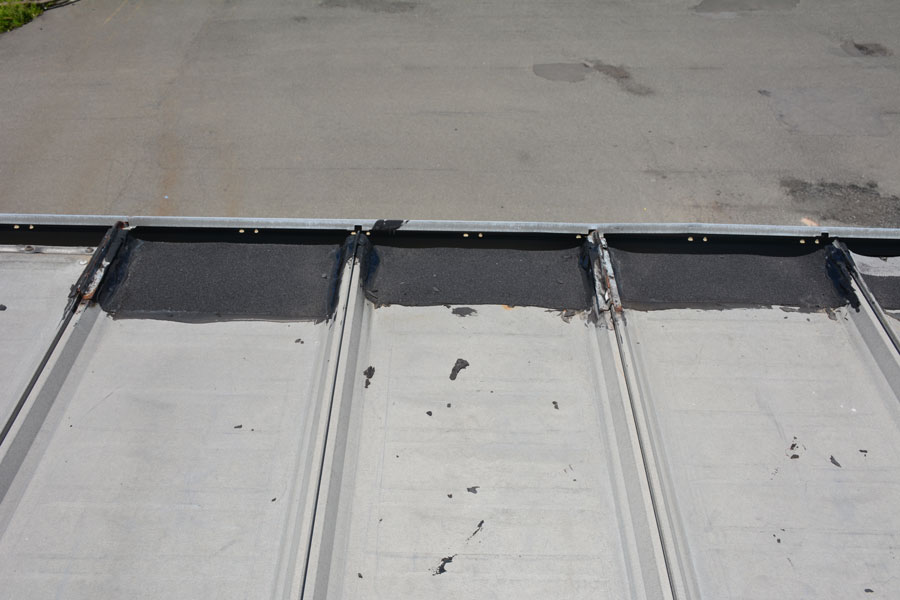 We install a rubber membrane over roof joints, flashing and any areas where metal has corroded. This is the best solution for any metal roof.