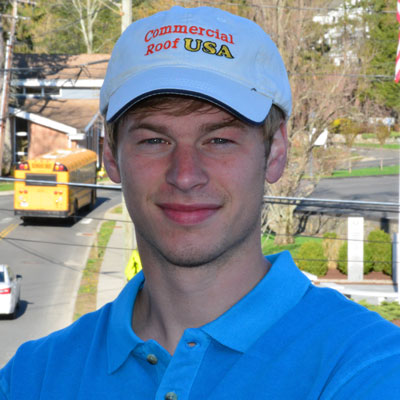 Andre Ferreira – Roofing Contractor in Norwalk CT
A little about myself.
At the age of 16, my father 
Naas
 took me out of school to work on roofing projects amongst the other laborers. I was happy to be out of a class environment where I wasn't thriving and enjoyed every minute of being on a roof.
Growing Up Fast.
I quickly became a man and learned the techniques of the roofing system they were using. It wasn't long, and I was handling some of the smaller roofing projects by myself. At the time my father was still improving a particular roofing techniques that later would become a very key ingredient to the Two Ply Roofing System that we now use.
I finally moved up in the business and 2014 became co-owners with my brother 
Erik
, of Commercial Roof USA.
Copper Specialist
Since then I also have learned to copper work. I have acquired the knowledge and experience to install high-end gutters, and I am a true copper-smith. I fabricate special flashing and copper standing seams. It takes a particular person to a work of art working with copper. I pride myself to provide the highest quality copper roof work.
Slate Roof Specialist
I also install slate roofs. I have learned the craft of how to cut and install slate roofs the old fashioned way. I use a sharp edged hammer to cut the slate tiles and make the holes for the nails.
Slate Roof Specialist
This method takes time but produces a far better looking roof than slate cut with a saw or grinder.
With all the different facets of roofing, I had to learn other kinds of crafts, including carpentry and plumbing.
My specialty projects are those that requires high skill and perfection. This type of project takes time and patience to accomplish the necessary precision, and I thrive doing it.