EPDM has become the most recognized rubber roofing system for flat roofs, yet the worst for, Commercial use. We install and Repair EPDM roofs in Pittsburgh, Monroeville, Greensburg, Stamford, Greenwich, and Fairfield.
EPDM stands for "Ethylene Propylene Diene Monomer." It is a synthetic rubber with an elastic nature. It is similar to the material used in the inner tube of a tire. It is a single-ply rubber membrane chosen by most roofing contractors because it installs easily and is cost-effective.
Advocates for EPDM often refer to it as an "Extremely durable synthetic rubber roofing membrane." What is their measurement for durability? According to their standards, it is tough and durable. When compared to Modified Bitumen Torch Down membrane, which is a 2-ply flat roofing system, EPDM is far from having a standard of durability without continual maintenance.
Let's Look at EPDM.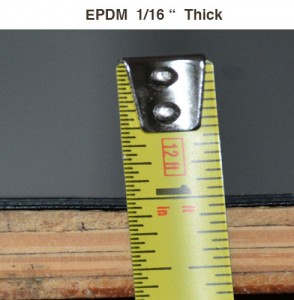 it has a smooth finish and feels nice to the touch and to walk on
the smoothness makes it hard for debris to collect, moss to grow and mosquitoes and insects to breed
it is easy to clean with a broom or a leaf blower
it is manufactured in wide sheets to reduce the number of seams that need adhesion
relatively inexpensive and can be installed by a small crew of 2 – 3 people.
Let's
Look AGAIN

at EPDM
very thin – suppliers carry only 45 or 60 mil. thicknesses and contractors will provide quotes based on 45 mils., rather than a 60 mil. quote, to win a bid; quality is compromised when contractors do not inform their customers with choices
improvements are still evolving; the latest technique is to replace liquid adhesives with self adhering tapes, but the tapes have not been tested long enough to guarantee a long lasting maintenance-free roof
EPDM rubber does not last; after about 10 years of exposure to the sun, the membrane will show signs of shrinkage and a decreased elasticity due to UV rays
the adhesives used for the seams fail due to extreme heat causing a need for intermittent maintenance
to help secure seams, a lap sealer (caulking) is used over all the seams which is a 5 year fix at best
an uncured more malleable rubber is used for the detail flashing around corners of skylights and vents and does not last half of the rest of the EPDM's life.
the membrane is black in color absorbing extreme heat upwards of 160°F.
easily punctures when maintenance workers unintentionally step on nails, bolts, and screws left behind by workers who install rooftop units
expenses associated with calling a roofing contractor cause building maintenance crews to make repairs to the EPDM rubber by using incompatible materials
it is very hard to attach EPDM rubber to metal flashing and never have a problem. The way to get around it is to use the same membrane as flashing. You will notice that the EPDM rubber continues up behind the siding or up on a skylight curb. They hardly stop on the metal itself.
below are images of "repairs" to a flat roof that is about 14 years old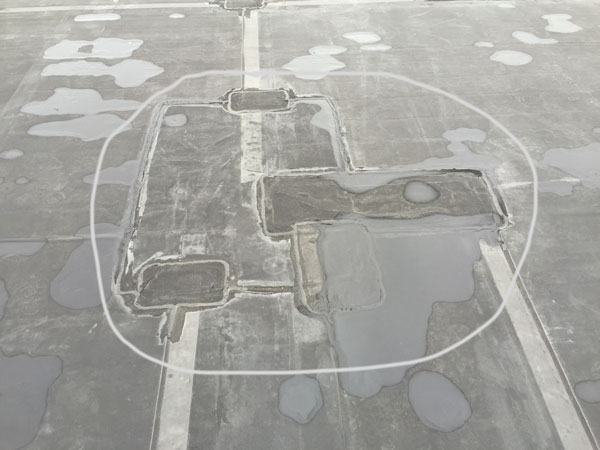 Repairs on an EPDM roof – Pittsburgh, Stamford, White Plains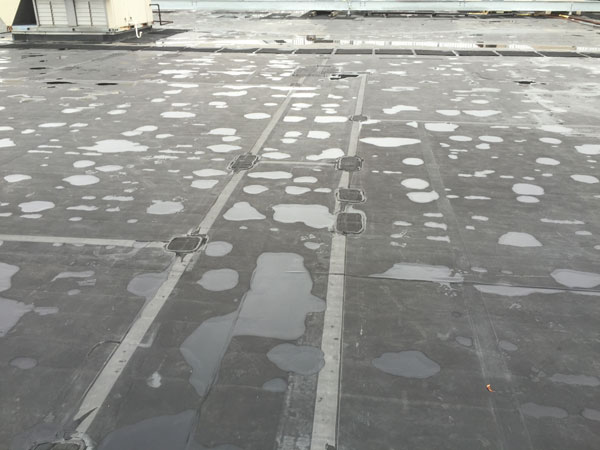 We serve all the areas in Pennsylvania – Pittsburgh, Monroeville and Connecticut – greenwich, Stamford, Norwalk, Fairfield and New Canaan.
Upon close inspection of this EPDM single-ply flat roof system, we determined that it did not fail due to the poor workmanship of a contractor, rather, it was the faulty glue composition that failed to withstand the exposure to the elements. In the last 40 years of the existence of EPDM rubber and the adhesive materials associated with its proper installation, the industry has changed the glue composition more than 4 times; a true testament to the fact that there are major flaws with the EPDM system.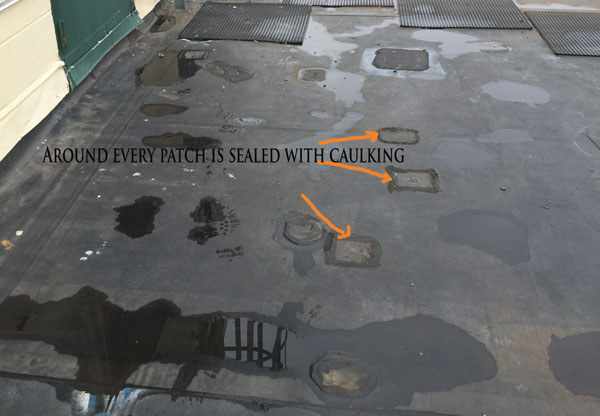 The following image shows a close up view of the patches on a EPDM roofThe issue is not the EPDM rubber itself but rather where the seams or patches are. This is very strong evidence that the glue that is suppose to hold the seams and patches together failed.