Torch Down Roofing with Modified Bitumen
Modified Bitumen (MB) Torch Down Roofing membranes were first developed in Europe in the mid-1960's, introduced in the U.S. in the late 1970's, and first manufactured in the U.S. in 1980. The membrane is composed of various types of modifiers, reinforcements, and surface treatments.
The 36 inch-wide membrane rolls can be purchased with or without embedded ceramic granules that protect against harmful UV rays. The unprotected MB membrane will need to be coated with an asphalt-aluminum coating, known as Silver Coating, for harmful UV protection.
Torch down roofing using MB can be installed as single ply, or a 2 ply membrane, on both commercial and residential buildings. When installed as a 2 ply system, we provide a 40-year warranty.
Torching Down an MB Two Ply Membrane 
Torching down a Modified Bitumen 2 ply membrane requires little surface preparation. A 2 ply torch down membrane can be installed over any existing roof or surface, to include a Hot-Tar-and-Gravel roof system. To install this 2 ply system, a fiber asphalt base is fastened with anchors and washer plates, to the existing roof, or to a substrate. This is followed by a self-adhering modified bitumen rubber base. Then a Modified Bitumen membrane, embedded with ceramic granules, is heat fused down to the base, completing the 2 ply system. The combination of these layers makes the membrane over 3/8″ thick. This roof system can withstand heavy foot traffic by work crews, snow shoveling, and because it has embedded ceramic granules on the surface, it will be protected from harmful UV rays.
MB Two Ply Rubber Membrane with Fiber Base Sheet.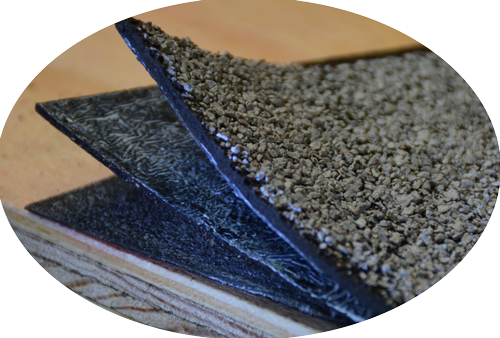 MB Two Ply Rubber Membrane Thickness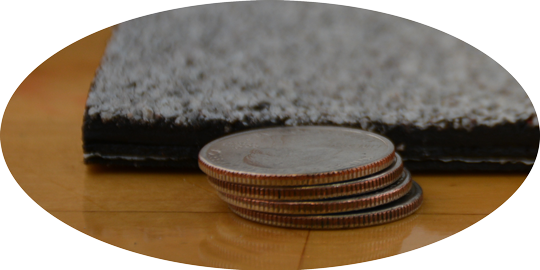 Torch Down MB Over Surfaces
The 2 Ply MB Torch Down Roofing Membrane is 3/8″ thick and can be installed directly over an uneven stone surface without being compromised by punctures. In fact, the stone layer provides excellent insulation, when air is trapped between that layer and the new MB membrane. MB can also be installed over EPDM and TPO roofing systems that have degraded due to the lack of UV protection and the failures of bonding adhesives on seams. Because these existing roofing systems can be covered with the 2 Ply MB, stripping and removing the existing roof debris will not be an expense.
Torch Down Roofing is Durable
Torch down 2 ply rubber roofs are durable in that, not only can they withstand at least 40 years of extreme weather conditions, they can remain unaffected with heavy foot traffic by service and repairmen, as well. Unlike the single ply roofing systems, as in TPO and EPDM, the 2 ply MB system will need little to no maintenance during its life.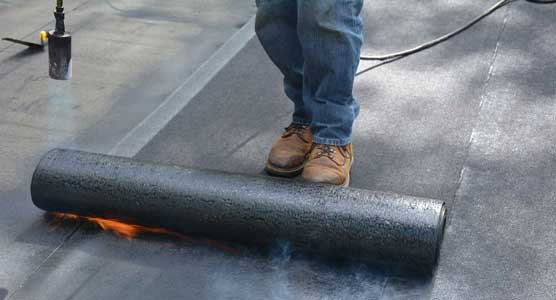 Torch Down Roofing Materials
Installing the Torch Down Modified Bitumen 2 Ply Rubber Roofing requires a contractor to have the following:
Fiber base paper with anchors and plates
The Modified Bitumen self adhesive base
A Modified Bitumen single ply rubber membrane (known as a cap sheet) wth embedded ceramic granules that protect against harmful UV rays
Professional, well-experienced roof technicians, that are skilled with installing MB roofs