Okay, you Brownstone Dwellers of Brooklyn, New York, we have decided to write about your roof top problems. Several of you had contracted us to help make the proper decisions to solve leaks, and for that, we are all fortunate. We repair chimneys and install new flat roofs. We repair any leaky roof and fix drains in Queens, Brooklyn, and Manhattan.
We did repair work on the following addresses:
557 Decatur St., Brooklyn, NY
Clinton Ave., Brooklyn, NY
350 Clermont Ave., Brooklyn, NY
22 Fort Greene Place, Brooklyn, NY
417 Clermont Ave., Brooklyn, NY
As we think back on our assessments of the problems and needed repairs of the Brownstones listed above, we felt it necessary to mention that any work done previous to our arrival, was improperly done; by inexperienced roofing contractors, perhaps. It has been our experience that not every roofing company has an interest in installing the kind of roofing system needed for long term leak protection, and many of the leaking issues we found were a reflection of that.
To include a positive, however, the best thing that all these Brownstone dwellings had going for them, was that the Modified Bitumen torch down membrane roof system had been installed. It is by far, the best 2-ply rubber roof to have on any residential or commercial flat roof.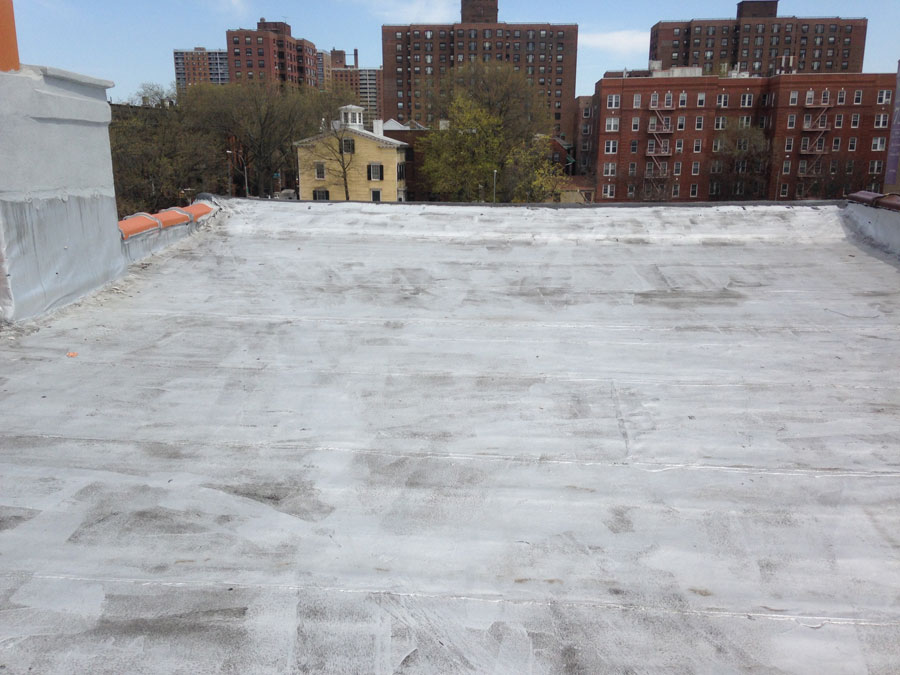 The picture above shows a roof after we installed a new membrane. Notice the parapet walls are covered with the rubber membrane. Also, we were careful to transition the membrane from the roof to the chimney.
In the video below, you will see a hoist we made specifically for getting materials to the roofs of Brownstones.
Brownstone Roofing Issues in Brooklyn, NY:
the seams of the membranes were not properly welded
flashing around the skylights was not installed properly
chimneys were tarred, cracked, and peeling
transitioning from roof to parapet walls was not properly sealed
gutters were not attached for proper drainage
On several dwellings, we would only have to prepare the seams to be re-welded, which meant a big savings for the dwellers. On Decatur Street, a brand new membrane was installed only a few months prior to our arrival. To everyone's distress, vents had to be relocated, so there would be a need to cut new vent openings, with patching repairs made to the old ones. Fortunately, the decision was made to replace a months old roof with a brand new roof  so as to maintain the integrity of a one time replacement.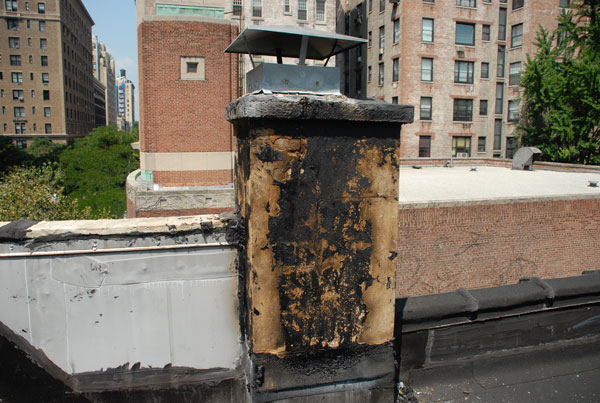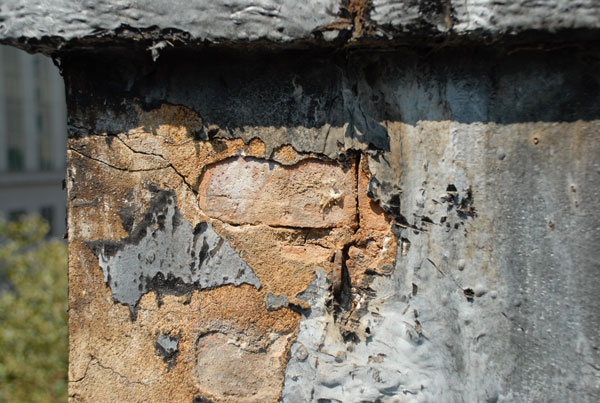 If you are a Brooklyn resident, you most likely have a Brownstone apartment. If you are having leaking issues, or just need a new roof, you should not remove the existing roof, rather, the installation of a new Modified Bitumen rubber membrane over it, is best.
We also advise that the 2-ply membrane with ceramic granules embedded for ultraviolet sunlight protection on the surface, to be your first choice. There was no mistaking the number of roofs we saw painted with the silver coating, which only lasts a few years as protection from harmful sunlight.
Currently, there are laws against using a torch to install new roofs, but not to repair one; it is best when 2 torch down membranes are fused together. It becomes a reinforced 2-ply membrane able to withstand the elements for many years to come.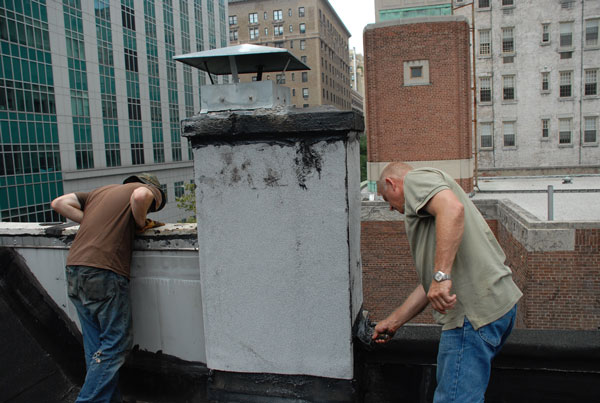 The most important part of a roof is the flashing. On most of the roofs we have seen in Brooklyn, the roof membrane stopped at the bottom of the wall and then tar was used to make the transition to the parapet walls and chimneys. This is a bad method. In no way should tar be used to cover a cement or a brick wall.
The best way to combat leaks that come from these transitions at the chimney and walls, is to continue with the rubber membrane up and over the wall.
Chimneys on Brownstone Buildings
Most of the chimneys in Manhattan and Brooklyn are smeared with tar. When the tar cracks, water will seep into those cracks. During the winter, the water will freeze and cause the mortar and the brick to crack making it vulnerable to leaks that will come with the first thaw.
When it comes to parapet walls and chimneys on a brownstone apartment, the best way to repair them is to cover them with a rubber membrane.