Drains are the most integral component on any flat roof. They are responsible for properly draining any and all accumulated precipitation. To preserve the life of the roof, they must be cleaned from the debris that collects around them, on a regular basis. There are several ideas you can implement to improve the effectiveness of a drain system. We serve from Pittsburgh, Monroeville PA to White Plains NY to Stamford, Greenwich, Norwalk and Fairfield CT
Improve Your Flat Roof's Drainage System
The easiest improvement you can make to your flat roof  is to replace the small plastic strainer or grate with a self-made larger strainer that is metal. The sizes shown below prevent small debris from going down the drain with the water. Eventually, the build up of debris will hold back the flow of water. Standing water can promote the growth of moss and also become a breeding ground for insects and mosquitos.
Visit a metal supply yard or a metal scrap yard and look for a mesh type of sheet metal. Have it cut to about 24″ x 24″ and have the four sides bent to form 2″ sides all around. The sturdier the mesh the better it will perform.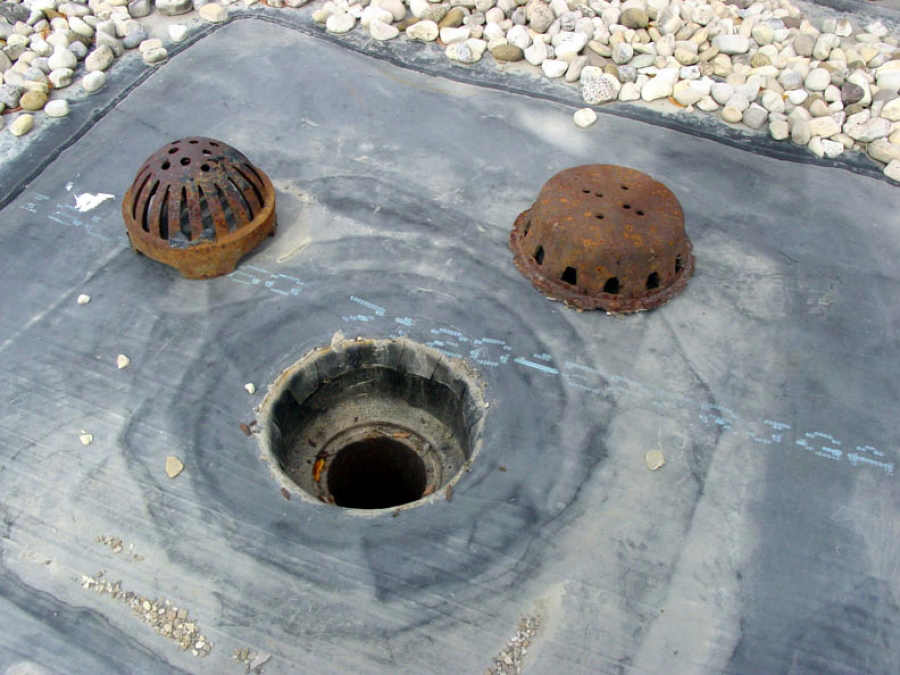 Just making a large strainer from either diamond mesh or any other wire mesh material will improve the drainage system. Make sure the holes in the mesh are big enough to allow small debris through.  1″ x 1″ holes will be better than 1/2″ holes.
[otw_shortcode_content_toggle title="Drain Strainers on Flat Roofs Video Transcription" opened="closed"]Hi, my name is Erik with Commercial Roof USA and a very common issue on flat roofs are the drains. Now, there's many problems with drains but a very common one that we see all the time is having too small of a drain and uh, they install these and then put on these tiny strainers that are like high but very, you know, small in circumference and the problem is especially in a area with a lot of trees around like this one is that just a few leaves clog it up and as you can see when they wash up, up against it, it creates a high barrier so this roof, this particular one fills up quite deep. So like if you're not up here every, every couple of days, every couple of weeks especially in the fall, these are constantly clogging up. So, the way we solve this problem is by, first of all, making the drain a little bit lower and we'll show you that in just a minute, but replacing strainers like this these small strainers with much wider strainers cause like just a few leaves clogging up uh coming up here and clog this up. So what we do is custom make a nice wide low strainer like this one. After we lower the drain this will be very good cause just a few leaves stay way out here. You have a lot more space for all the uh, for all the water to come in still. If they wash up over top, the water can still get through. So, small you know, small circular ones like that, they just don't work. So, this is how we solve the issue. First of all, number one, lowering the drain slightly and number 2 putting a much wider, lower strainer on top. Alright I've lowered the drain here and um, this is the old strainer, if you remember how small it is just a few leaves and twigs and what not can block this up really quickly. So we're getting rid of this and you can see how we lowered it a bit and we made it just the right shape for our custom drain here. Now, this fits in perfectly right here and when a leaf or leaves come in here and start blocking this up, the water then just flows over the leaves onto this, and this thing will block up much less than that. This will take weeks to block up where that can go for like a day. So, um, this is how you do, this is an effective strainer especially when you lower the drain like this and this fits in perfectly. This is the type of strainer you should have on your roof.[/otw_shortcode_content_toggle]
This video explains the principles of how a large metal strainer will be more practical than smaller dome shaped plastic strainers.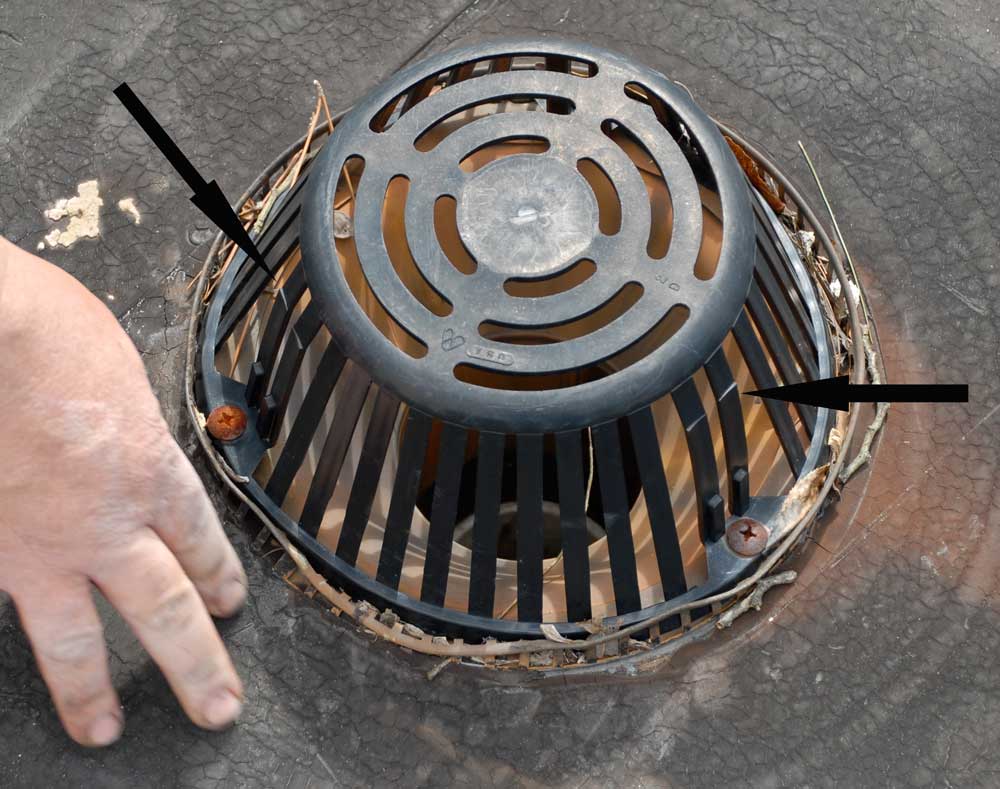 If you are more serious about ensuring proper drainage, then lowering the drain is another option. This is by far is the best way to make sure that your drains are doing the job they are meant to do. Although a professional roofer will need to be called to make the adjustment, you will be saving money over time; the installation of a new roof can be far more involved and costly.
Below is a list of considerations that will determine the cost of lowering a drain.
What type of membrane is on the roof?
Are there other roof systems under the current membrane?
What type of material is the current drain made of? ( It could be either plastic, copper, aluminum or cast iron.)
Do you need to get a plumber to shorten the piping from inside?
Do you need a carpenter to cut and lower the roof deck in that area?
A reputable and experienced roofing contractor will be able to do everything without having to get other tradesmen involved.
The cost of lowering a drain can start as low as $1200 and cost as much $2500. It all depends on the circumstances.
This is a video on how we lowered a drain.
The Perfect Drain System
We have built recessed drains for over 20 years now. None of them is as good as the one in the video below. Watch this video to see how well this system drains the water off the roof. After 10 years the owner did not know he had to clean the debris off his roof. He took it for granted that the drains just work. Amazing to find out that the drain had prevented a disaster over the years.