Skylight Leaks and Repairs – Super Silicone Seal
After many years of trial and error we finally have found a product to repair skylight leaks. Super Silicone Seal is an unbelievable sealant and easy to use.
We typically find skylight leaks on flat roofs, develop because of the degradation of the rubber gasket or the flashing connection to the roof around the curb (the curb is the base or housing used to hold the skylight in place on the roof) of the skylight. A gasket is a seal between the window and window frame.
Installing new skylights is easy, however, repairing them can be a little more costly if there is degradation beyond the rubber gasket or curb flashing.
Two areas where skylights can leak:
1. Skylight Dome and Gasket Leaks. – some leaks are caused by the deterioration of the plexiglass or the gasket. A tradesman familiar with skylights can repair and/or replace either of them.
2. Roof and Flashing Connection – leaks are caused by the deterioration of the flashing connection to the roof area around the skylight. A roofing contractor can make the necessary repairs.
Skylights for Natural Light
When a room does not have windows, the best way to get natural light into that room is to install skylights. The light can set the tone by enhancing the look and feel of a room. There are many types of skylights available in both glass and plexiglass.
Skylight Basics
There are 3 parts to a skylight:
Curb section – this is normally a wooden frame that is approximately 6 inches in height and placed over the opening of a roof.
Glass or plexiglass section – this is placed on top of the curb and held in place with a metal frame and gasket.
Metal or plastic flashing – this gets wrapped around the curb so the roofing material can be secured to it to form a watertight seal.
Skylight Leaks on a Flat Roof
When we are called to repair a skylight leak, the first things we check are the age of the roof, its condition, and the type of roofing material that was used. Often, we find that skylight leaks stem from the shrinkage of the roofing material. This stress will separate the membrane from the flashing.
Another common leaking problem we see, is caused by the brittleness of the rubber gasket. Skylights have a metal frame whereby a rubber gasket is used to seal the window to the frame.
Skylight with Metal Frame
The image below is a skylight with a metal frame which holds the glass in place. In between the frame and the glass is a rubber gasket that makes a water tight seal.The rubber gasket may harden and crack over time and cause a leak.
Still in the process, notice that the roofing membrane has not been attached to the metal flashing yet.
Reasons for Skylight Leaks
improper installation of flashing
rubber gasket becomes old and brittle or shrinks
a poorly designed skylight
it's placed at an improper angle
plexiglass will degrade and crack from years of exposure to harmful UV rays
The plexiglass on the skylight below is secured by a metal frame. It is likely that the rubber gasket between the metal frame and plexiglass will deteriorate over time and need to be replaced.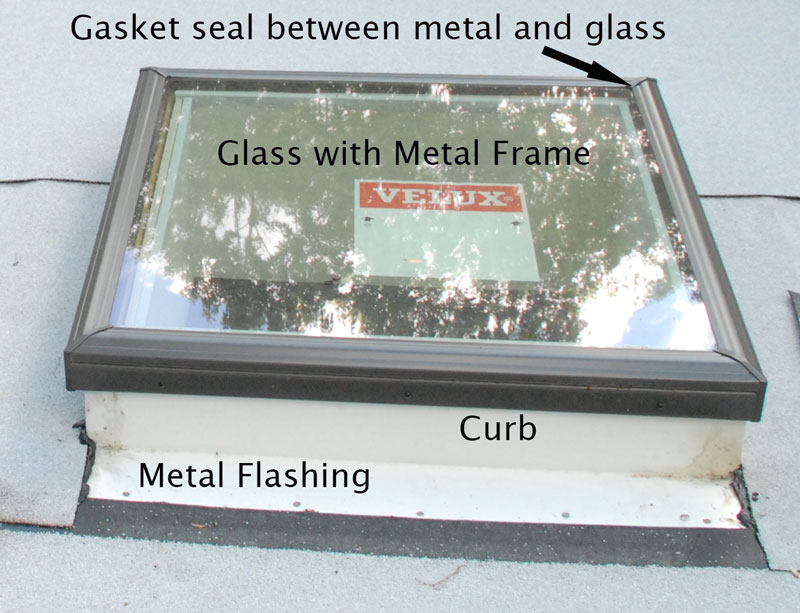 Glass vs. Plexiglass Skylights
There are many kinds and shapes of skylights. The important fact to remember glass skylights should be installed at an angle so that water will not collect inside the frame that holds the glass. On the other hand, dome plexiglass skylights are the best choices for a flat roof because water and snow cannot collect on top of them.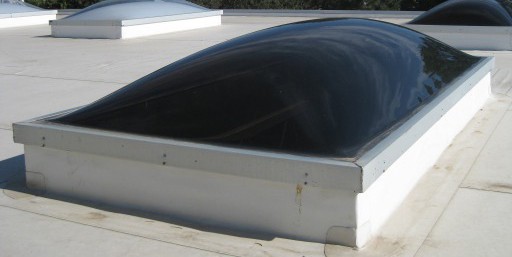 Skylights can be Reused
Skylights can be reused, but they will need maintenance or replacement over time due to harmful UV damage to the Plexi/glass and the gaskets.
This skylight's curb was removed when a new roof was installed. After the roof was done the skylight was re-installed.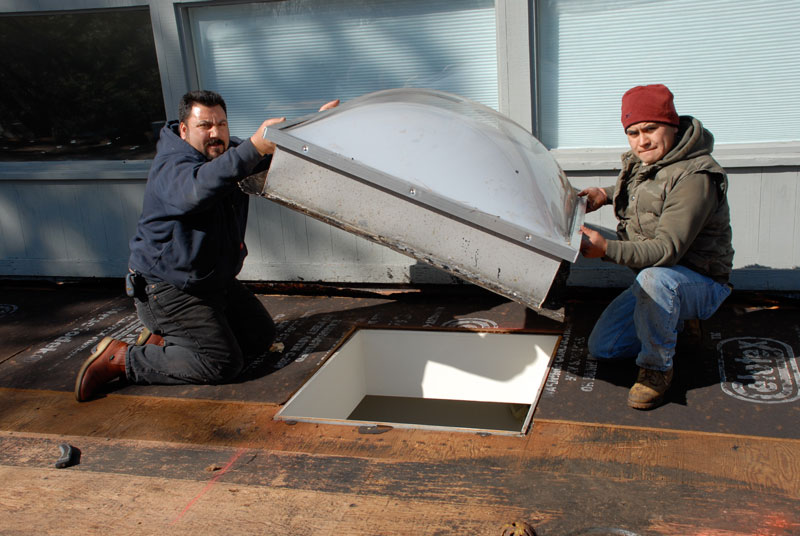 Dome Skylights
The proper way to install a skylight is to have it fastened to a curb as seen in the image to the right. This helps to make a transition to the roof and also keep the the skylight above the water and snow levels when a roof floods.
Dome skylights are best for flat roofs, and are commonly used because they can last up to ten years without any maintenance.They stay free of water and snow collection because they are domed.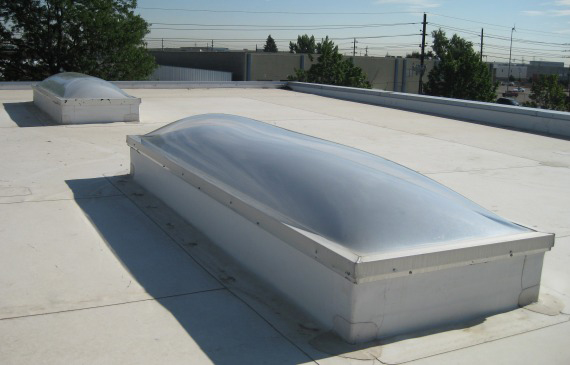 Concerns with Skylights on Flat Roofs
It often happens that water will pool around a skylight curb on a flat roof. This pooling water can eventually penetrate the area where the rubber membrane connects to the metal flashing, resulting in a leak. The best solution, in this case, is to build the roof up, to remove the pooling water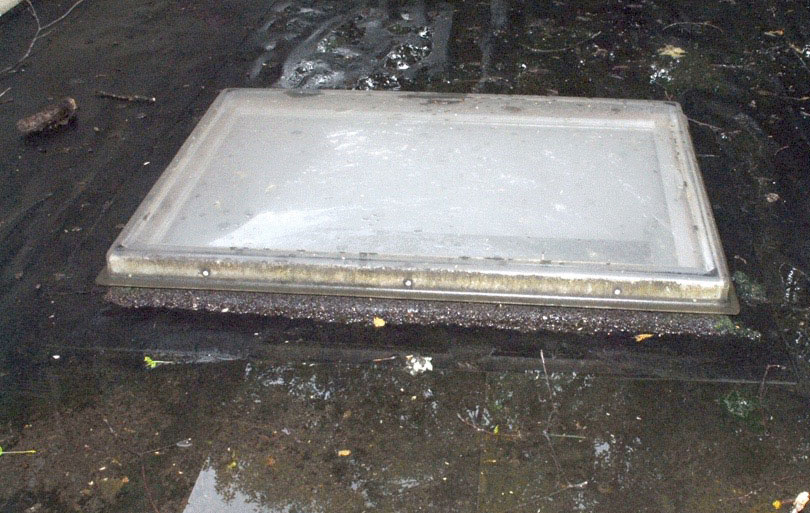 .
Skylight Manufacturers
Velex
Velux is known for quality skylights, sun tunnels, and roof windows. They also market solar, electric and manually powered skylights. No matter what the application is, there is a product for you. We have installed this brand many times without incident. As in the many repair calls we have answered, the issue of leaking is not the fault of the skylight itself, rather, it is the installation technique. It is very important that the flashing be installed properly. A pitch roof has a different kind of flashing requirement than a flat roof. Sometimes, a carpenter or roofing contractor will not know the difference and install the wrong flashing around a skylight.
Wasco
Wasco is another manufacturer of skylights. Wasco has all shapes and sizes and specializes in the acrylic or plexiglass type of skylight. If you want a circular or extended vault type of design, they are known for these kinds of specialty designs, as well.
Tip: Purchasing Skylights
A skylight has three parts, the glass or plexiglass, a curb, and metal flashing. When ordering a skylight kit, be aware that some manufacturers do not include all three parts.
Skylights on a Shingle Flat Roof.
The image below is an example of skylights that leaked because shingles, rather than a rubber membrane, were installed on this low sloped roof.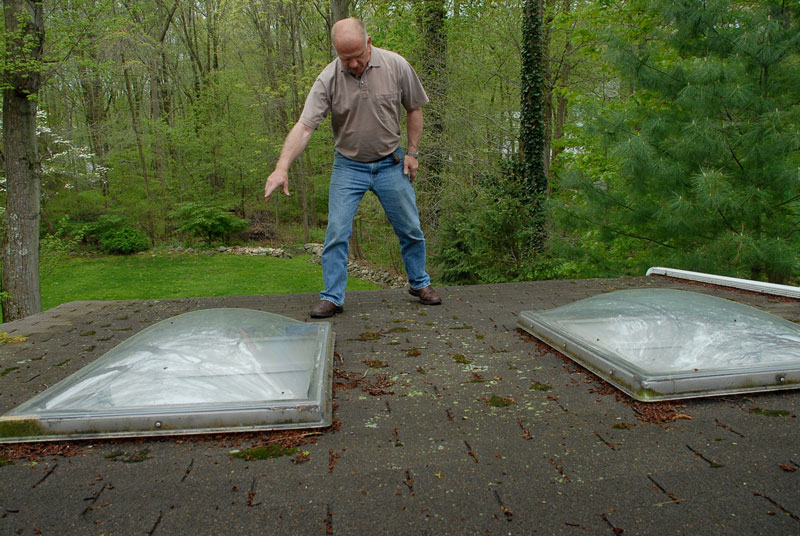 Skylight Locations
Depending on where a skylight is located on a roof, a plexiglass skylight may deteriorate and crack over time if it is located in direct sunlight throughout the daylight hours. The glass in skylights will last almost indefinitely, but the rubber gasket, between the glass and the frame, will need maintenance over time.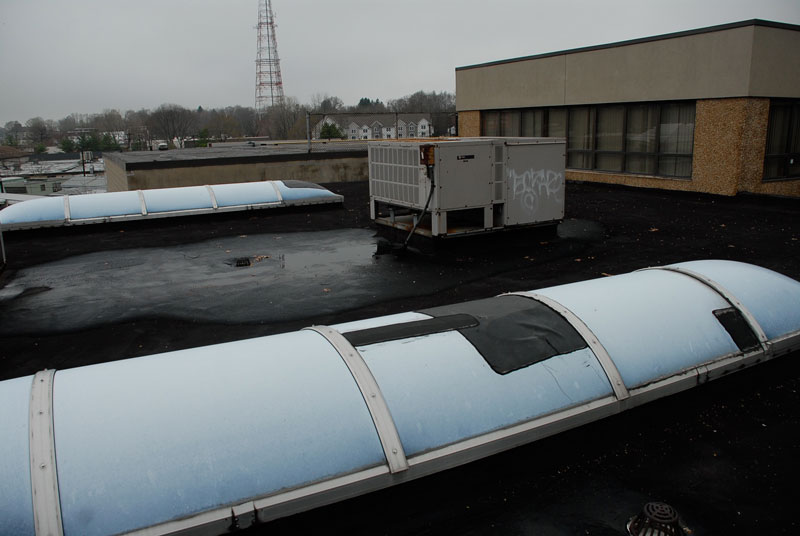 Skylights on Different Types of Roofs
It is not as easy to replace skylight gaskets on steep shingled roofs, as it is on flat roofs. Most of the time, people use caulking to reseal a skylight's glass to its frame, but the proper repair is to replace the entire rubber gasket.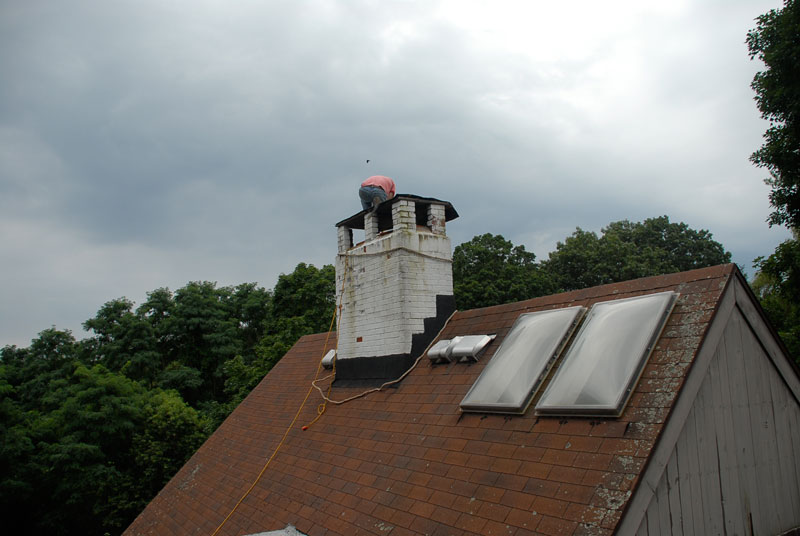 Atrium Skylights
As with all skylights, the metal frame that secures the glass has a gasket in between them. These gaskets dry out and crack or shrink and can cause leaks. This atrium style skylight, on a flat roof, can be maintained regularly to ensure the gasket between the glass and the metal frame, remains strong and leakproof.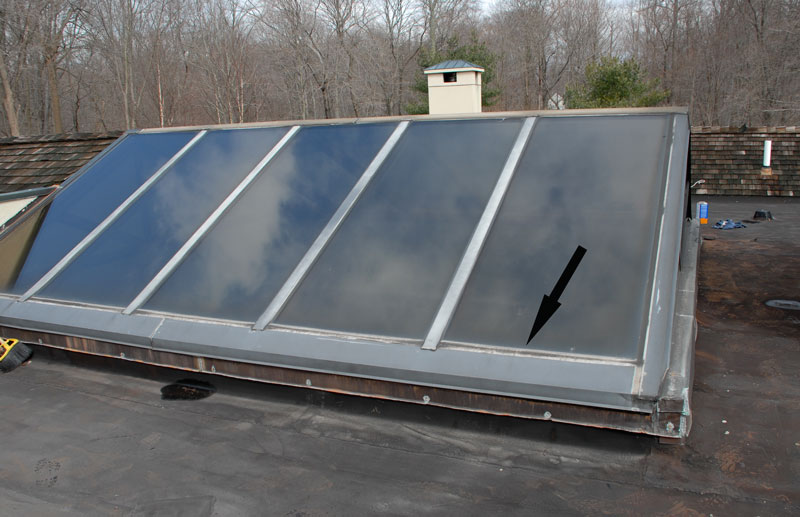 Flat Skylights
Glass skylights are flat, and should always be installed at a angle so water and debris will not collect on top of them.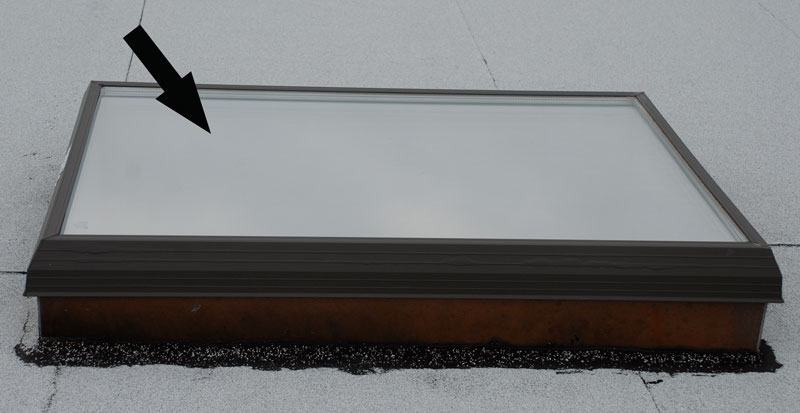 Angled Curb Skylight:
Skylights installed on a curb that is angled, will prevent water and debris collection. One can purchase skylights for a flat roof with angled curbs that can be professionally installed.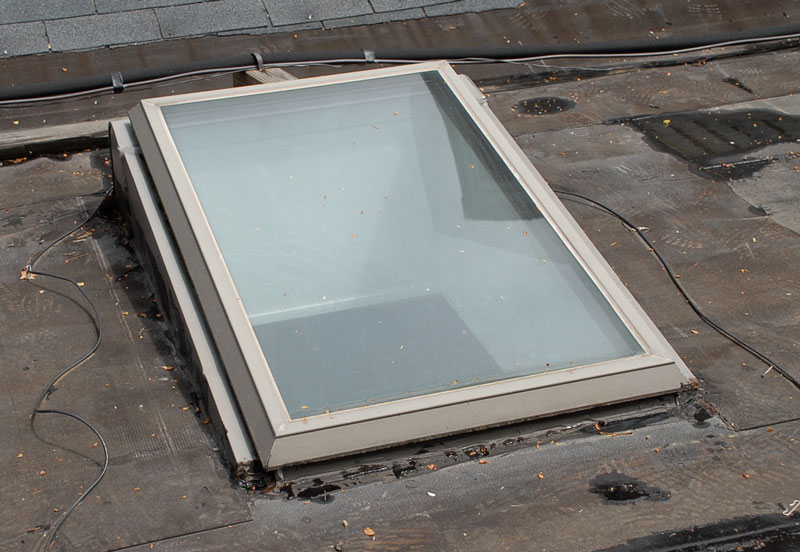 One Solid Piece of Flashing
Flat roof skylights should have one continuos piece of metal flashing around them. The corners of the flashing should be welded.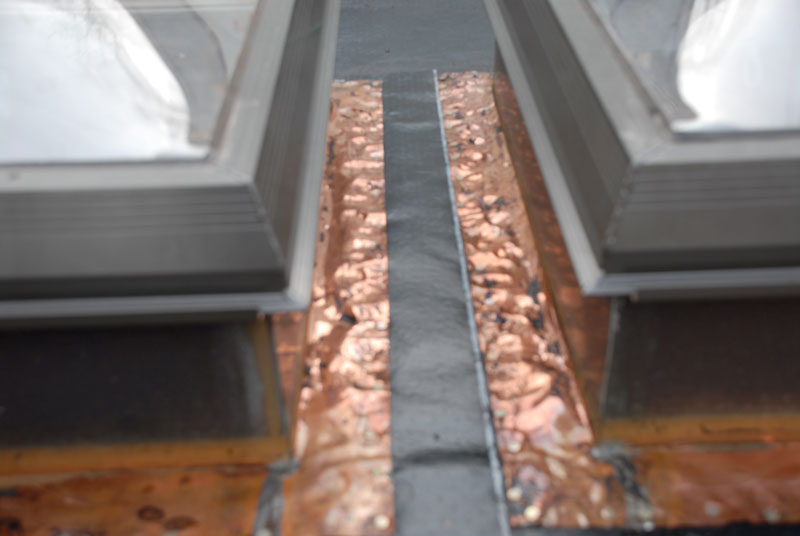 Preparing the Flashing for a New Rubber Roof
It is labor intensive to clean and prepare the flashing of existing skylights, however, it is a very important process that must be done properly because the new rubber membrane must be attached to clean metal.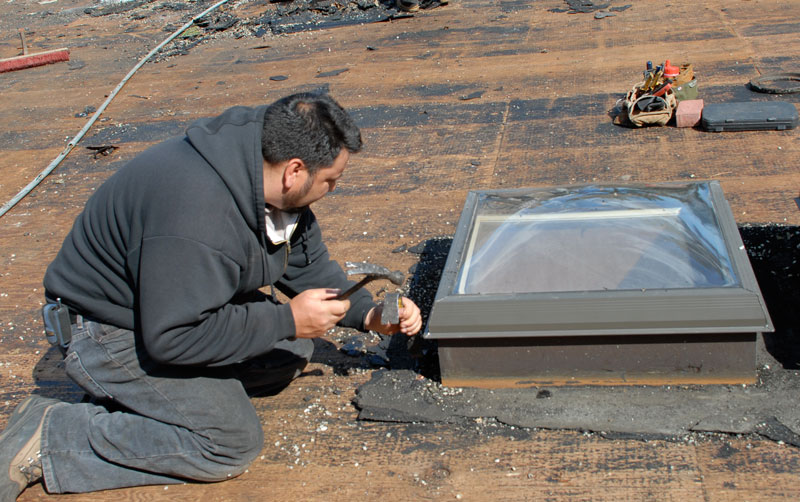 Wasco is another manufacturer of skylights. Wasco has all shapes and sizes and specialize in the acrylic type of skylight. If you want a circular or extended vault type of design, they are known for those kinds of specialty designs, as well.
Dome and Tunnel Skylights for Commercial Flat Roofs
These dome and tunnel skylights are made by Wasco Manufacturer. They're very popular on industrial commercial roofs because they allow ample light through to work spaces. They come in two parts; the curb and plexiglass sections. Despite their effectiveness and low maintenance needs, they do not last as long as glass skylights because the plexiglass dome becomes brittle, and will crack over time.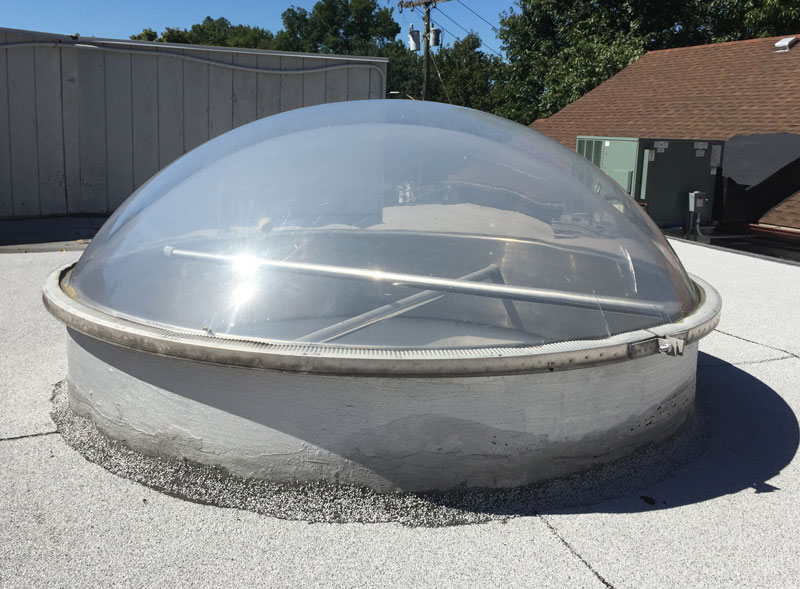 Domed Plexiglass Skylights
The best choice for a flat roof skylight is a domed plexiglass skylight. Debris and dirt will not collect on top.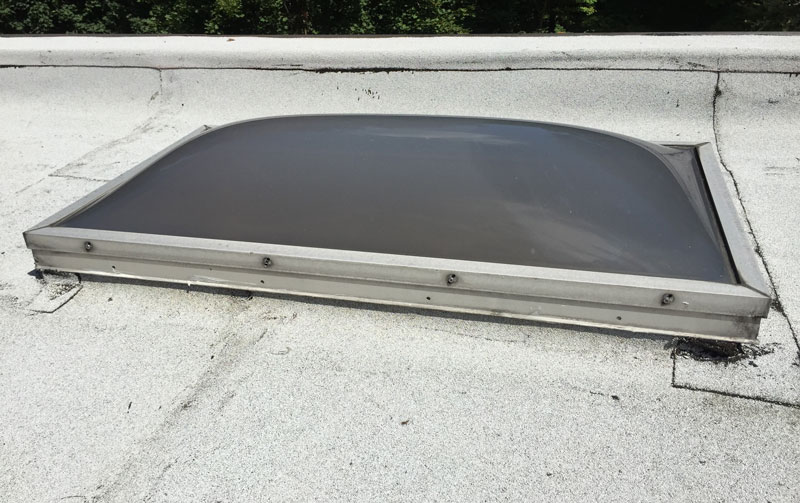 Fancy Skylights have an Aesthetic Value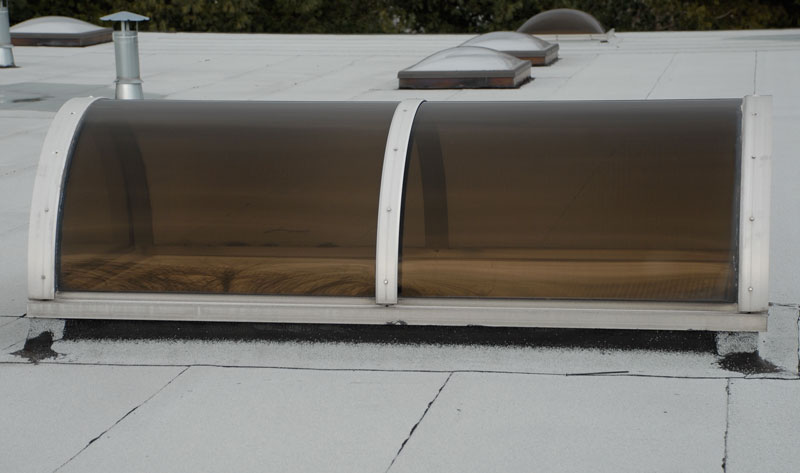 Skylights add a certain effect to a room. Some skylight windows are tinted, others have an atrium look, still others, have a tunnel look which all give a room more natural light.
Skylights with Smeared Tar on Metal Roofs
We have seen smeared tar used as a common fix for leaking flashing of a skylight. As in the picture to the right, pouring and smearing tar to seal flashing of a skylight, onto the metal roof, is an improper repair procedure. In a rather short time, the tar will dry and crack, and water will leak into the interior of the structure.
Removing any tar from around a skylight's flashing, on a metal roof, is laborious and becomes an added expense to the building owner, before a proper repair can be made.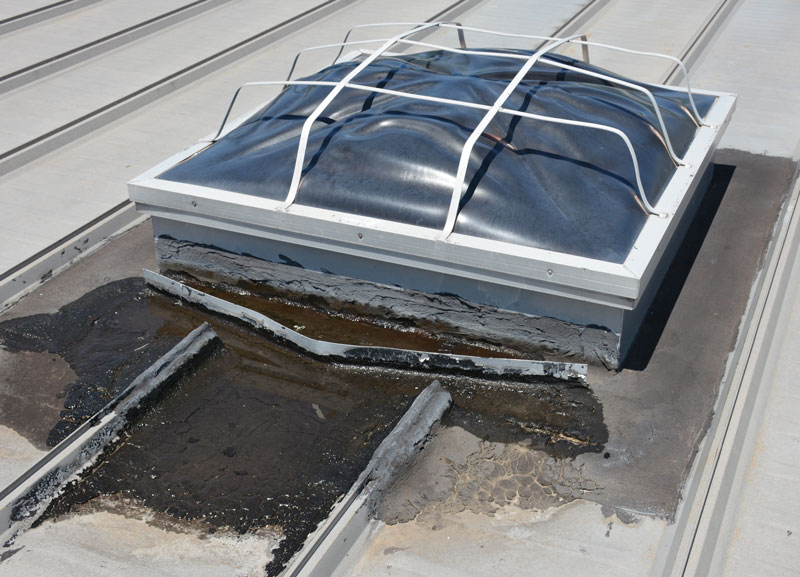 Rubber Membrane Around Flashing
The image shows the flashing after the tar has been removed and replaced with a rubber roofing membrane. This membrane will last for many years to come, and will not crack with the expansion and contraction of the metal during heating and cooling conditions.