[otw_shortcode_content_toggle title="Roofing Installation: Pros and Cons of EPDM Video Transcription" opened="closed"]Hi I'm Erik from Commercial Roof USA and this is a very good example of you know of an EPDM roof and it looks very nice people like it because it has fewer seams and you know big sheets of material so it looks very clean very nice but the problem is as we say with everything First of all its a thinner material and also no UV protection Here's the perfect example of that Right here uh over the years the EPDM has shrunk a little bit and thus stretched right here in the corner and then with the stretching and the UV rays pounding down on it it starting eating it away and right here in the corner where it was stretched the most this is where it got eaten away the most also and you can see it has gone straight through And this is what happens EPDM looks very nice but does not perform well especially with no UV protection[/otw_shortcode_content_toggle]
The EPDM single-ply rubber roof system has pros and cons associated with its material's performance.
Pro: A seamless appearance.
Con: Materials' failures
We have repaired many EPDM rubber roofs in the Pittsburgh, Monroeville, Stamford, Greenwich, and Westport areas due to ultraviolet degradation and shrinkage. Below, the video reveals how EPDM fails to perform despite seamless aesthetics.
Most roofing contractors are only familiar with the EPDM single-ply roofing system.
Pro: Roofing contractors can install EPDM quickly and at cost that seems appealing.
Con: The contractor is not familiar with other roofing systems. The potential for repairs and possible replacement of EPDM is sooner than expected.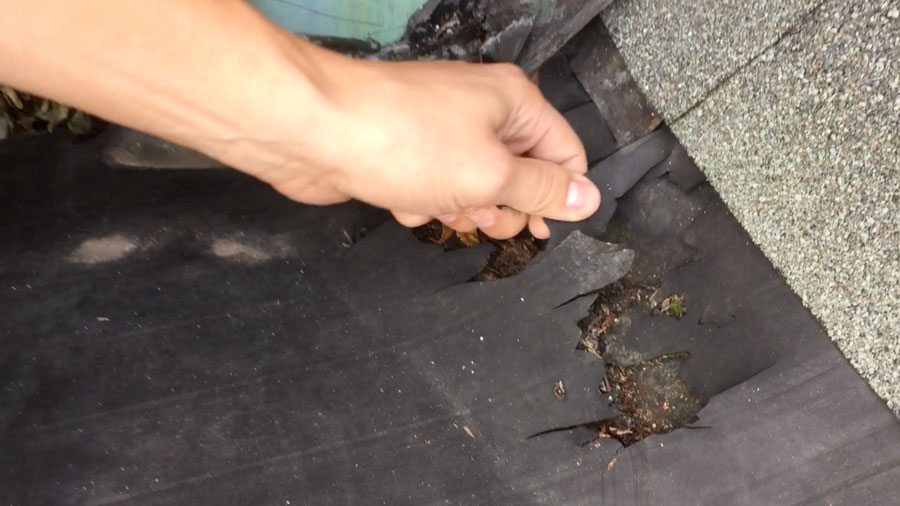 Pro: EPDM single-ply rubber roofs can last up to 15 years.
Con: Continued maintenance. After the installation of an EPDM single-ply rubber roof,  it could be as soon as 3 – 4 years when leaks can begin. The glued seams start to come apart because of the deterioration of the adhesives.
Pro: EPDM is flexible and installs easily around skylights and drains.
Con: EPDM degrades and shrinks causing leaks and creating a constant need for repairs.
Compare the Three Roofing Systems 
Check out the article on roofing systems explained. This will be helpful in understanding the different types of roofing systems and how they are applied. There are 3 different roofing systems that can be used by roofing contractors: the EPDM single-ply System, the TPO system, and the Modified Bitumen Torch Down Two-Ply Membrane System. Most roofing mechanics are only familiar with EPDM and know very little about the TPO or Modified Bitumen Systems. Because of their lack of knowledge of the other systems, they are unable to provide their clients with the best choice according to their needs.