EPDM & Modified Bitumen Torch Down Rubber Roofs – Which is the Best?
Leave a Comment / EPDM Roofs, Torch Down Roof / By Naas Ferreira / November 13, 2015 / EPDM Rubber, flat roofs
EPDM & Modified Bitumen Torch Down Rubber Roofs After 10 Years
Below are images of EPDM rubber roofs and Modified Bitumen Torch Down rubber roofs that are about 10 years and older. Notice that Modified Bitumen rubber roofs outlast EPDM rubber roofs in terms of durability and appearance.
Modified Bitumen Torch Down Rubber Roof: A 2 Ply System
This image is a 2 Ply Modified Bitumen Torch Down Rubber Roof which shows no signs of degradation after 14 years. Also, there are no patches to indicate that there was any need for repairs. When inspecting any roof, seeing numerous patches is a good indication that the rubber roof has been compromised with leaks.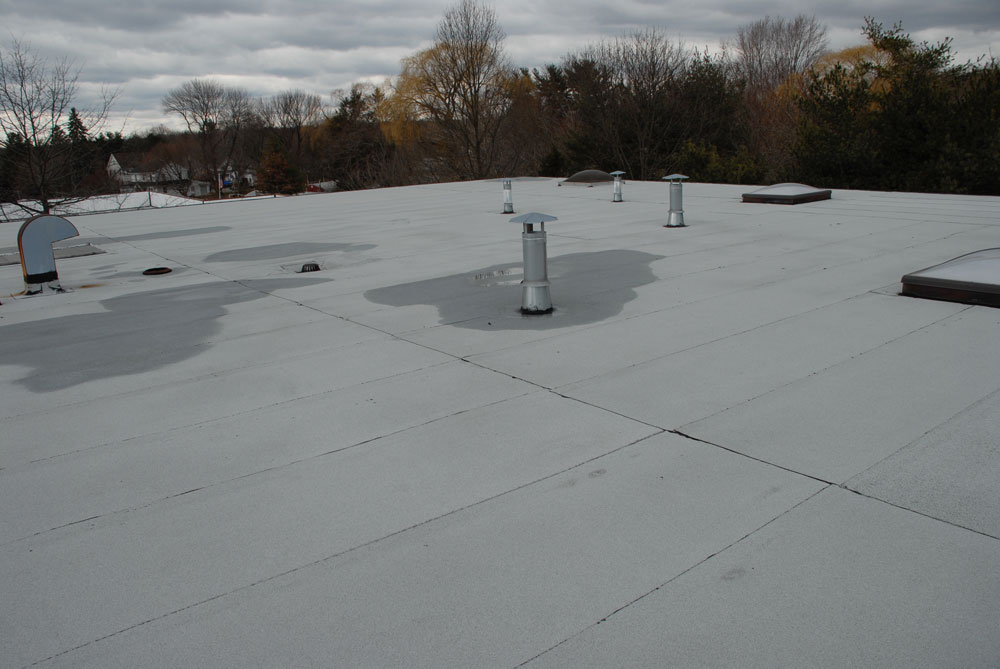 EPDM Rubber Roofs Fail Prematurely
This EPDM rubber roof is 10 years old and has had many seam and roof repairs. The adhesive properties have deteriorated which caused the seams to separate and leaks to develop.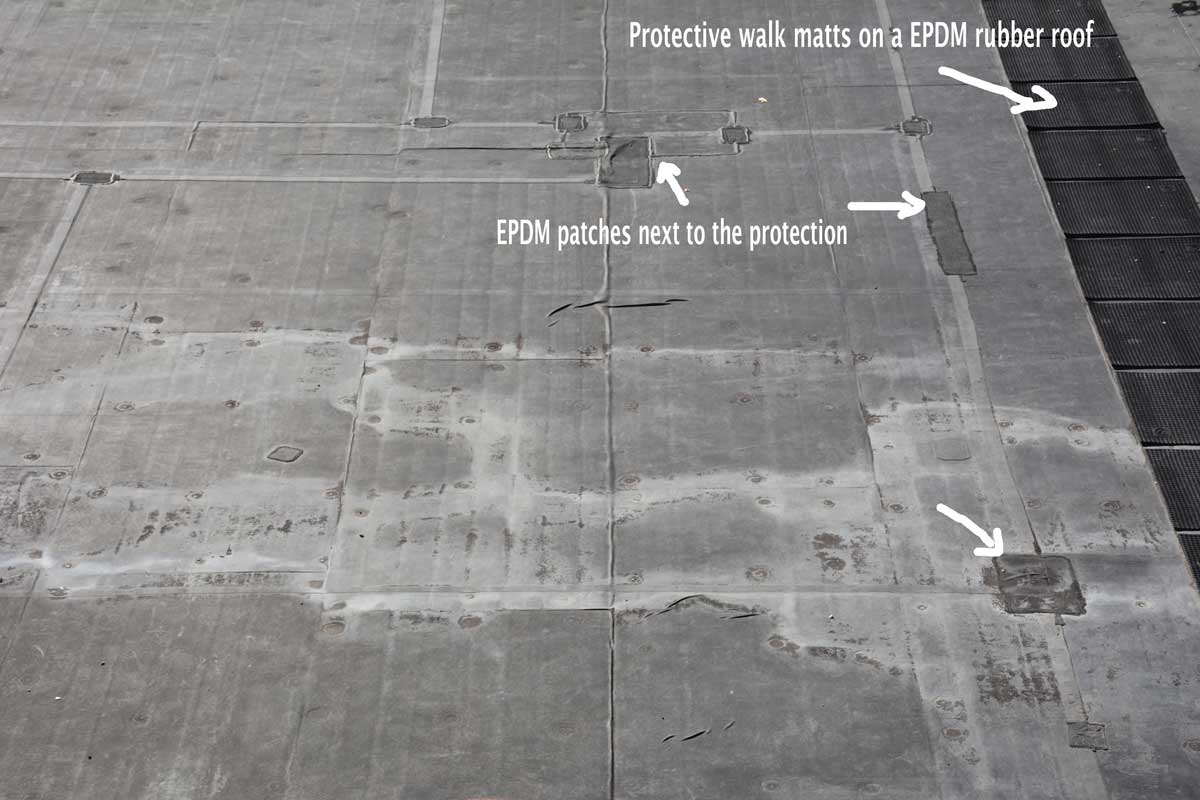 EPDM Rubber or Modified Bitumen for Residential Roofs?
Residential roofs can have a combination of sloped and flat roofs. The flat roofs are normally used to access the sloped roofs for cleaning gutters, snow removal, or house painting, resulting in more foot traffic. As a result, the flat roof membrane becomes susceptible to punctures from these maintenance activities. Therefore, it is important to have a rubber membrane that can withstand excessive foot traffic and be resistant to punctures.
EPDM is not designed to withstand the repeated foot traffic that is necessary for home maintenance because it is too thin, and can be easily damaged. We highly recommend the 2 Ply Modified Bitumen Rubber Roof System because it is five times thicker, with a stronger rubber composition that will not erode with any maintenance activities.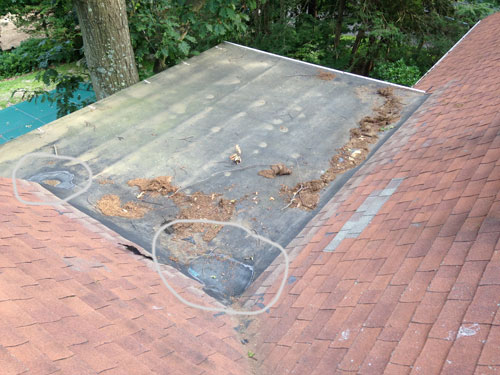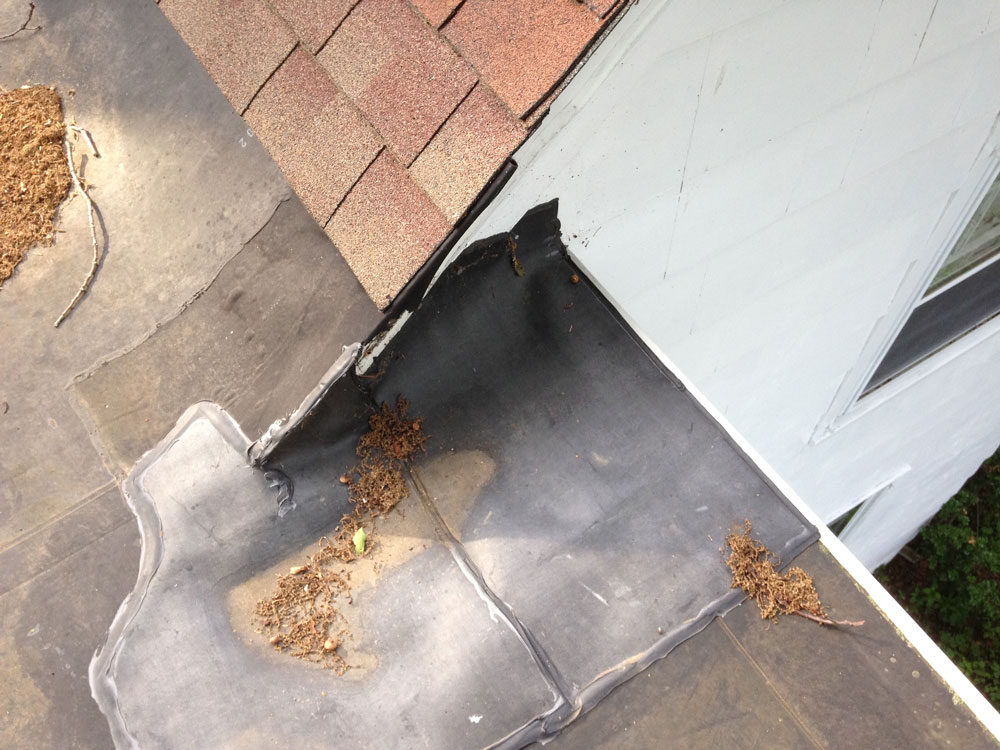 EPDM Adhesive & Caulking Issues
EPDM rubber roof adhesives and caulkings fail because they cannot withstand the surface heat for extended periods.  An EPDM roof surface can reach temperatures upwards of 160° F.
In the image, there is a history of many repairs on this EPDM roof. The dark-colored caulking is a sign of old repairs, while the lighter colored caulkings are signs of newer repairs. Neither the EPDM rubber patches nor the caulking, are a permanent solution to a worry-free or leak-proof roof.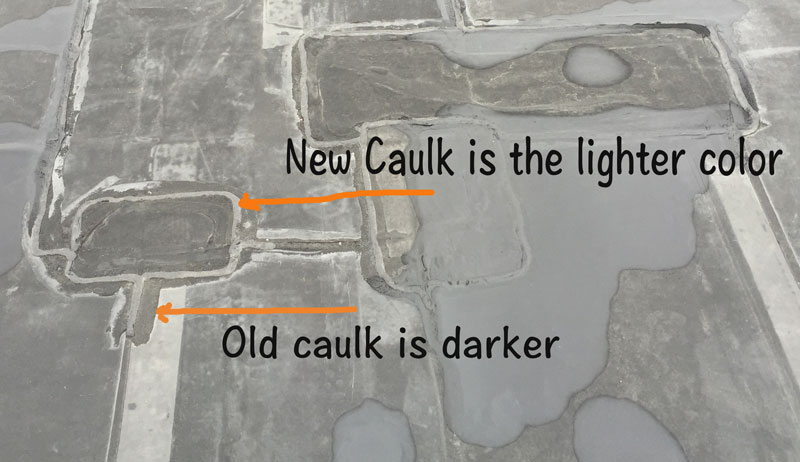 Modified Bitumen
Modified Bitumen Torch Down Rubber Roofs are heat-welded at the seams. Commercial Roof USA installed this roof over 14 years ago, and as of this writing, there are no signs of repair patches.
This roof is located on 819 Westport rd East, Westport, Connecticut.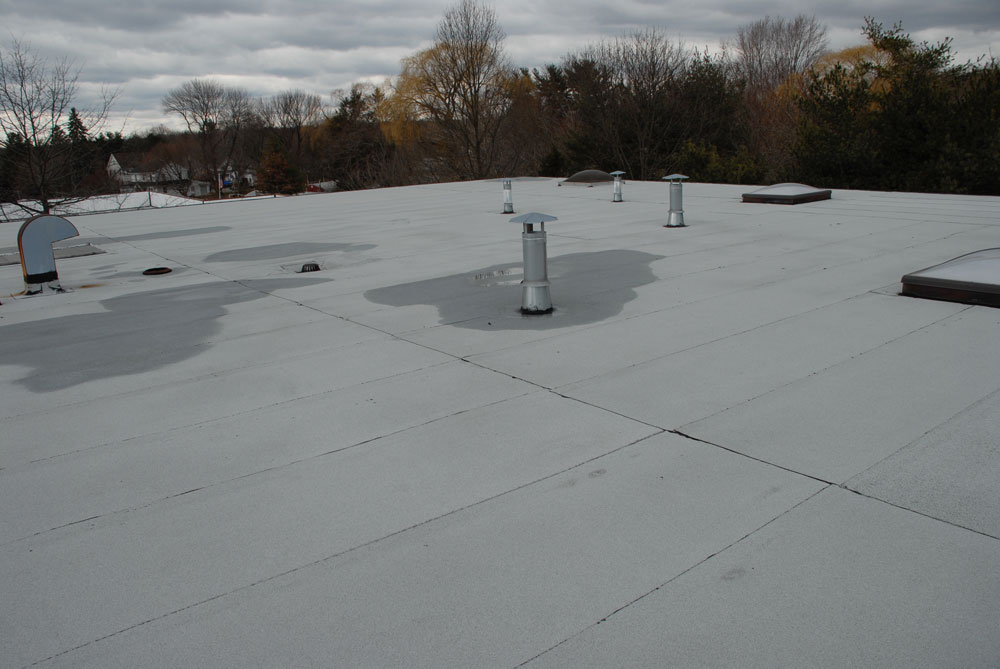 Coated Modified Bitumen Rubber Roof
This is a 25-year-old 2 Ply Modified Bitumen Torch Down Rubber Roof, coated with aluminum asphalt paint, which is meant to protect the surface against harmful UV rays. It has had many years of scattered debris, foot traffic from a rooftop a/c and ventilation units serviced, yet, there is no indication that repairs were done. This type of roof has withstood maintenance and service activities throughout its 25 years. Today Modified Bitumen Torch Down Rubber Membranes are offered by manufacturers in both an unattractive surface and a surface coated with ceramic granules.